Stay in the loop when it comes to your order status. Below are common order and artwork statuses you will see on your account page.
Artwork Status: Waiting on Customer
If you are seeing the status "Waiting on Customer" — your custom artwork has not been uploaded and confirmed within your account page.
Step 1: Go to your account page. Click here to be directed to your account page.
Step 2: Within your order id page, you will upload your artwork PDF by clicking the grey "upload artwork" button.
Step 3: After you have uploaded your artwork file and you will then click the "confirm" button to confirm your artwork upload. It is crucial that the confirm button is selected. If the confirm button is not selected, your order will remain in the 'waiting on customer' status.
Below is a screenshot of an order details page within a user account. The upload button is grey and is located on the left-hand side of the website. The confirm button is orange and is located on the right-hand side of the website.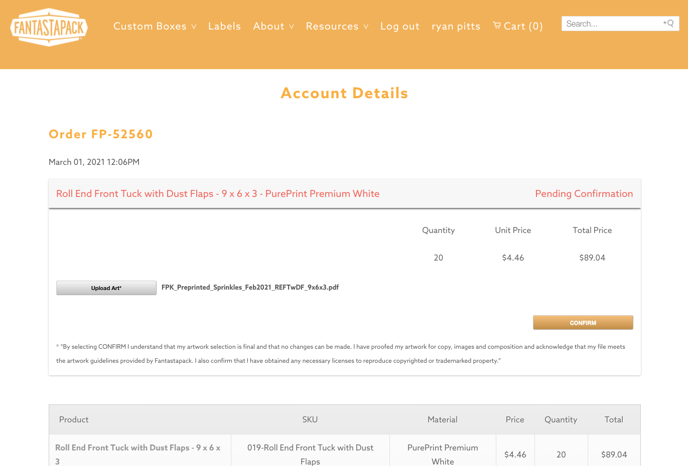 Artwork Status: Reviewing
If you are seeing the artwork status 'Reviewing" — your artwork has been properly uploaded, confirmed, and is currently being reviewed by our pre-press graphics team. Our pre-press graphics team will check your artwork PDF to ensure it's properly formatted and placed on a Fantastapack dieline.
Please note: Our pre-press team is only reviewing the technical formatting of your artwork. The graphics team does not provide an evaluation of your artwork's aesthetics or design.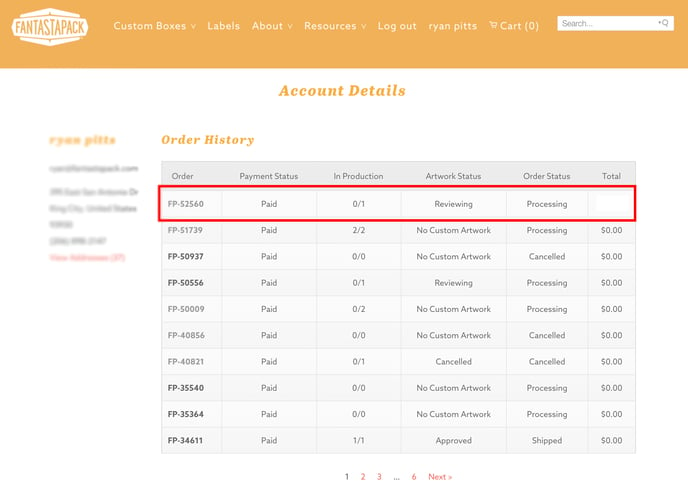 Artwork Status: Approved
Congratulations! Your order has been approved by our pre-press graphics team and is being assigned to our highly skilled production team. No need to send any additional information at this time.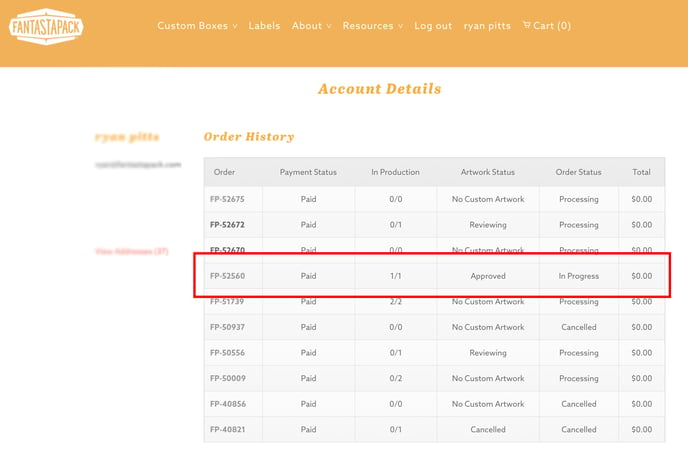 Order Status: In Production
If you are seeing the artwork status "In Production" then it's time for our team to start creating your custom packaging. Your order has entered our production queue. Our production queue contains all the Fantastapack orders based on order date. Once your order is in the production queue, we are unable to make any changes to your custom box artwork, size, material, or design.
Order Status: Finishing
We are close to completing your order. Our shipping team is patiently waiting for your order to finish so they can ship out your boxes as soon as possible. The finishing stage is typically when your box is being glued or cut.
Order Status: Shipped
At this stage, your order is finished and shipped out. We will ship your order in larger parcel boxes to ensure your boxes arrived undamaged. Based on your shipping service, you will be receiving your order in the next 1-6 business days. It's worth noting if you receive your shipping confirmation after 3 PM PST, most likely your order is shipping out the following business day.
We manufacture your order and ship from Kent, WA. Our shipping days are Monday - Friday, excluding major holidays. Fantastapack currently uses UPS & FedEx to ship out all online orders. Learn about our shipping options.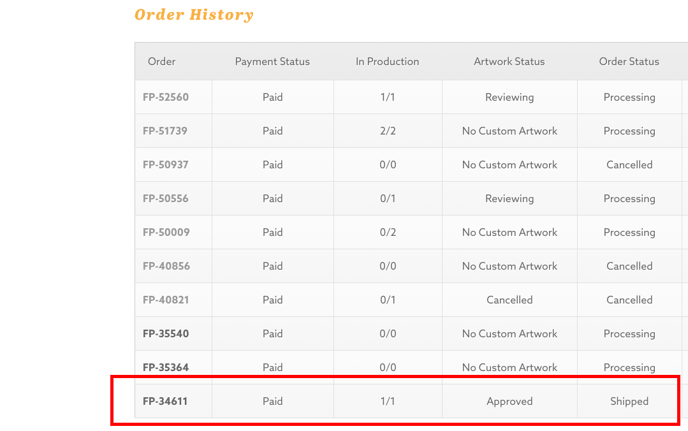 If you have any additional questions about order statuses, contact our Customer Support team at support@fantastapack.com.